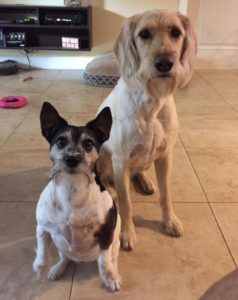 Hello world!
I'm Kori, consider me to be the Chief Marketing Officer. My dad, Mike, is technically the founder and CEO while my mom, Susy, would be the COO – because let's face it, dad would have too much to do if it weren't for mom. It's a family affair! We've been breeding dogs for as long as I can remember. Even my Memaw bred world-class German Shepherds. My older sister, Erin, used to help her show them all over the globe. Basically, we've always been surrounded by fur, wet noses, and unconditional love. I mean, how else are you supposed to get through this life?
It hasn't always been Labradoodles though. We used to breed Labrador Retrievers and Jack Russell Terriers. I'm especially fond of "JRTs," hence the picture of my Bailey… who some consider a "Fat Russell," but I digress. It all changed when Dad rescued a Labrador, and she is a hazel-eyed beauty! Her name is Cricket (not pictured) and she's the matriarch of the gang. Dad decided to breed her with a poodle and we fell IN LOVE with her doodle pups. Two of which, Coral and Sadie, are on the website. Cricket is actually the inspiration for the company name. Obviously we really love our pets, they make this family whole.
Ever since that first doodle litter, my dad has dedicated so much time and effort into perfecting the lineage and growing our furry family. They have five ladies and two studs that are playful, loving lap dogs. He focuses on size and temperament now. Cricket is the sweetest, most loyal and mellow dog you could ever want. But because this was easily passed down to our girls, our boys needed to be full of personality. Mix those two traits with his 5-acre property, and you dogs that will play outside until dark and come inside just wanting to snuggle up next to you. Talk about a "ruff" life, am I right?
Well, that's a little history lesson on my family and how CCK came to be. I hope you enjoyed it! Look back for more posts a couple times a month with stories of our puppies, family, and updates on breeding's. You're basically part of the family now, can't wait to share more with y'all soon!